Asia-Pacific offices enjoy positive rental growth while those in KL see a decline in 2Q2018
Knight Frank's Asia-Pacific Prime Office Rental Index grew 2.4% quarter on quarter to 137.2 points in 2Q2018. The cities of Tokyo, Bengaluru, Hong Kong and Sydney led the growth as they faced supply constraints. However, there was no change for Mumbai, Phnom Penh City, New Delhi and Seoul. As for Kuala Lumpur's office sector, it saw a decline of 0.8% "amid supply concerns and slow absorption", the global property consultancy says in a report.
"The office market outlook for Kuala Lumpur and Selangor remains lacklustre as impending supply, coupled with a tight leasing market, continues to put pressure on occupancy and rental levels," says Teh Young Khean, Knight Frank Malaysia's corporate services executive director.
"Landlords of older and newly completed buildings, especially in KL city, are more accommodating in providing additional incentives [in a bid] to retain existing tenants as well as to attract potential tenants."
Grade A offices with floor plates of between 15,000 and 35,000 sq ft, high ceilings, raised floors and double-glazed windows. They are also equipped with high-speed fibre-optic cables. With such incoming quality and an abundance of choice, landlords are working hard to retain their current tenants.Teh says the incoming supply comprises
"We do see many tenants, especially big-space occupiers, looking to relocate to newer, better-quality offices with landlords, offering competitive rental packages," Teh adds.
At present, the net yield of Grade A offices is about 6.5%, says James Buckley, Knight Frank Malaysia's executive director of capital markets.
"Office rents will continue to come under pressure, given the impending new supply and historically low demand. We believe the prices of offices will also come under pressure to maintain net yields at their current levels," he adds.
Meanwhile, the rest of the cities except for Shanghai have shown positive growth.
"Steady demand seen in the prime office market is expected to bolster rental growth in the second half of the year," says Nicholas Holt, Knight Frank's head of research for Asia-Pacific. "Despite headwinds, including tensions around trade, regional economic growth continues to fuel demand for Grade A office space."
According to the report, Bengaluru led the index with a 7% q-o-q growth. Limited supply pushed rents up as large corporations "jostled for quality space within a finite market".
Tokyo's Central 5 Wards Grade A rents grew 5.5% q-o-q as limited supply drove vacancy levels down 1.1% during the period — a 10-year low.
Hong Kong Central's submarket saw rents grow 1.7% q-o-q while Taipei's downtown rents rose 0.6%. In Beijing, rents grew 0.6% q-o-q as domestic financial, internet and high-tech occupiers gobbled up real estate in the Chinese capital's core business districts.
Shanghai, on the other hand, saw rents drop 0.7% q-o-q as new supply concerns impacted leasing sentiment and occupiers opted to relocate to cheaper alternatives in other business districts.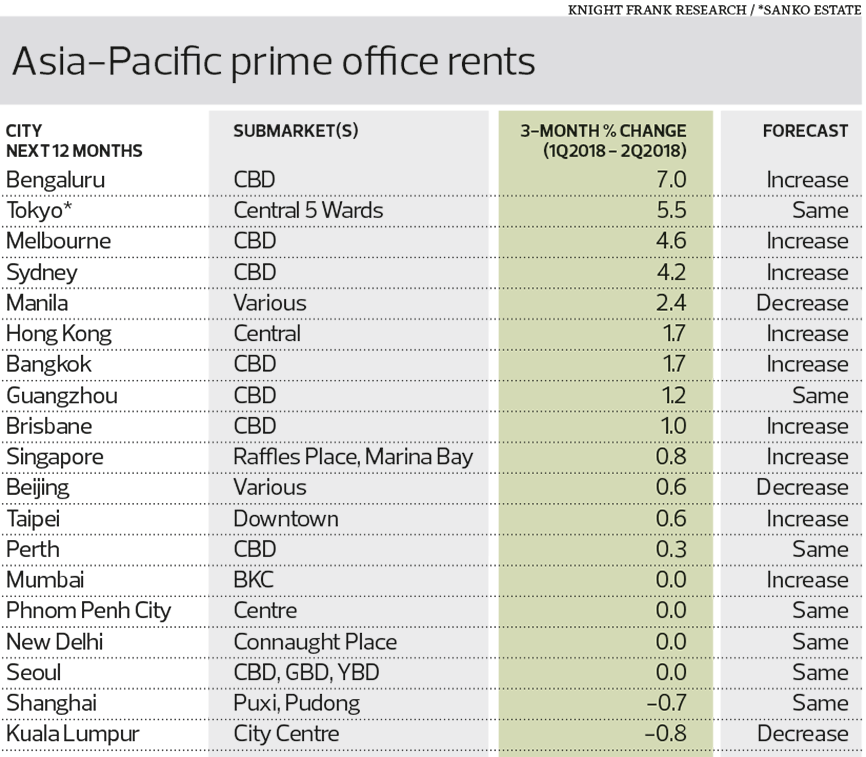 In Asean, office rents in Manila went up 2.4% q-o-q as demand for business processing offices remained robust. However, more supply is due to come onstream in the next 12 months, hence limiting rental growth, the report says.
"Rents in Bangkok's CBD (central business district) rose 1.7% q-o-q on a continued flight-to-quality trend and tight supply fundamentals. In Singapore, CBD rents went up 0.8% q-o-q as landlords adjusted rents upwards in lieu of tapering supply," the report highlights.
Overall, Knight Frank expects rents to remain steady or increase marginally for the rest of the year.
Source: http://www.theedgemarkets.com/article/asiapacific-offices-enjoy-positive-rental-growth-while-those-kl-see-decline-2q2018 (The Edge Market)