EPF Sells Wisma KFC to Singapore Company
THE Employees Provident Fund (EFP) has sold Wisma KFC in Jalan Sultan Ismail, Kuala Lumpur, to Singapore-based property developer and manager Royal Group. Sources say the 22-storey office building, which is believed to have been sold for about RM130 million, may be turned into a hotel.
Located within the Golden Triangle — the commercial, shopping and entertainment hub of Kuala Lumpur — the office building has a gross floor area of 342,145 sq ft and occupies a 0.5-acre freehold plot. It has 268 parking bays.
"The buying and selling of properties form part of the EPF's real estate investment strategy, either to realise gains or to rebalance our portfolio in accordance to our Strategic Asset Allocation. We are constantly keeping our options open and will thoroughly evaluate all available opportunities to ensure we maximise returns to our portfolio," the EPF tells The Edge when contacted to confirm news of the sale.
However, Royal Group co-chairman Bobby Hiranandani did not respond to a WhatsApp message sent by The Edge.
According to sources, the deal was brokered by real estate agency Zerin Properties, whose CEO Previndran Singhe declined to comment when contacted.
Formerly known as Wisma Idris, the building was built in the 1990s. Once the headquarters of Kentucky Fried Chicken Holdings (M) Bhd, the building is understood to have been left vacant for about two years after QSR Brands (M) Holdings Bhd — the operator of fast-food restaurant chains KFC and Pizza Hut — relocated to Petaling Jaya, Selangor. The EPF had bought the building from KFCH for RM90 million in 2004 and entered into a 10-year lease arrangement with a net annual return of 7% on the sale price.
The building's buyer Royal Group is no stranger to the Malaysian hospitality industry. In 2015, the group, via Hiranandani Hotels Sdn Bhd, purchased the 540-room DoubleTree by Hilton Hotel Kuala Lumpur from private real estate fund BlackRock Inc for RM388 million or RM718,000 per room.
More recently, Royal Group made the headlines when it sold Hilton Garden Inn North and Hilton Garden Inn South in Jalan Tuanku Abdul Rahman, Kuala Lumpur, to Thailand-listed Strategic Hospitality Extendable Freehold and Leasehold Real Estate Investment Trust for RM240 million. The group had purchased the hotel for RM82.5 million less than three years before the sale and disposed of it after renovating it extensively. It was reported that the group made a handsome profit from the sale of the 532-room hotel.
So, what will Royal Group do with Wisma KFC? Industry experts expect that the structure will undergo renovations and be retained as an office building or be transformed into a hotel. However, real estate agents dismiss the idea of the building being demolished and redeveloped because the "plot is rather small and not worth the trouble".
One real estate agent opines that the asset and location are suitable for a hotel and suggests that the building could be repositioned as a boutique hotel. Note that nearby — at a 10-minute walk from Wisma KFC — stands Holiday Inn Express Kuala Lumpur in Jalan Raja Chulan, which was formerly Menara ING.
Meanwhile, the EPF has placed other assets up for sale. Last May, The Edge reported that the retirement savings fund had asked real estate consultants to submit requests for proposal ahead of its planned sale of Axiata Tower in KL Sentral. The Grade A office building is estimated to be worth RM530 million. Interestingly, several real estate agents and valuers picked the sale of Axiata Tower as one of The Most Anticipated Deals in 2019 in The Edge's year-end report on Property Deals of the Year.
Axiata Tower is a 30-storey building with a total net lettable area of 355,096 sq ft. The EPF is believed to have purchased the building in 2011 for about RM428 million. It was reported at the time that Axiata Tower was 91% occupied.
In September, The Edge reported that the EPF was looking to dispose of a nine-year-old property in Avillion Admiral Cove in Port Dickson, Negeri Sembilan. The asset — Marina Vista Suite Hotel Block B — is valued at about RM50 million.
Other hotel assets sold by the EPF in Malaysia since 2014 include the Gurney Resort Hotel & Residences in Penang for RM160 million to Plenitude Bhd. The asset comprised 259 suites, retail units, office space and 551 parking bays.
The retirement savings fund also sold the 142-suite Northam All Suite Hotel in Penang. The hotel is listed as belonging to HNG Capital Sdn Bhd, which also owns the 100-year-old Macalister Mansion on the island.
HNG Capital is controlled by Tan Sri H'Ng Bok San @ H'Ng Ah Ba (30%), Datuk H'ng Chun Hsiang (40%) and Datin H'ng Hsieh Ling (30%). It is not known how much the EPF managed to sell the asset for, although it was reported that it hoped to make RM50 million from the sale.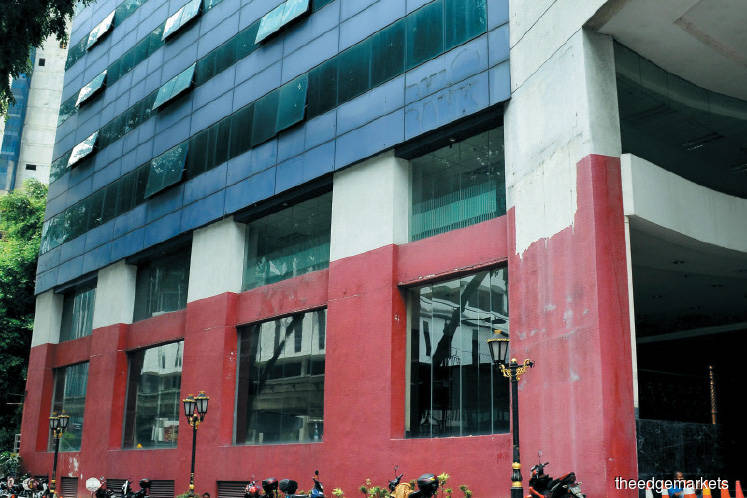 Source: http://www.theedgemarkets.com/article/epf-sells-wisma-kfc-singapore-company (The Edge Markets)